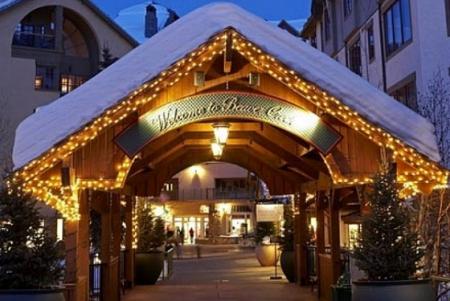 Beaver Creek ski resort Colorado USA – "Not exactly roughing it" is their slogan and that really encapsulates the character of Beaver Creek. Ski at Beaver Creek and you may well share a lift with the rich and famous and look out for the homes of movie stars and ex-presidents.
So what's so unique about Beaver Creek?
Beaver Creek really has something rather special about it. When the resort was being envisioned the designers were influenced by St.Moritz in Switzerland as well as Cortina in Italy. What resulted is a fabulous ski mountain with interconnected sections and a village where luxurious treats pop up everywhere.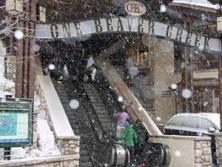 Beaver Creek treats:
Perhaps the treat is the ski valets who take your skis off the buses or maybe it's the decadent escalators, which whisk you from the base village up 2 flights of stairs to the snow by the lifts. No need to trudge very far in ski boots carrying your ski gear in Beaver Creek. On the flat bit between the Centennial Express lift & Strawberry Park ski lift, there is a travelator moving walkway, so you don't need to push with those poles – what a great idea! Hot cocoa & complimentary chocolate chip cookies are served at three o'clock every afternoon and are always a bit hit.
Hidden away:
Beaver Creek is just past Vail, tucked away, off the I 70 highway in Colorado. Many of Denver's "weekend warriors" go to the slightly closer resorts of Copper, Breckenridge and Vail ski resorts so Beaver Creek resort stays a little quieter and untouched. Beaver Creek is happy about that. On busier weekends they even been know to limit the number of skiers allowed on the mountain to keep the slopes quiet.
3 Beaver Creek Villages:
Beaver Creek resort is made up of 3 separate and distinct villages, all interconnected by ski runs.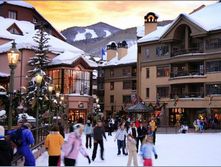 1) Beaver Creek Village:
Beaver Creek base village is the first stop for many and really the main centre of the resort, where most of the shops, bars & restaurants. Beaver Creek Village is home to St James Place, with family friendly hotel rooms & apartments, very close to the ski school. The walkways are heated and kept clear of snow in Beaver Creek Village, making it much easier to walk around in ski boots or ordinary shoes. The ice rink is the focal point of the village, where you'll see all ages trying their hand at ice skating, practicing their skills and quite often picking themselves up off the ice! Surrounding the ice rink are quite an assortment of boutique shops, art galleries, the Vilar Center for the Arts, bars and restaurants ranging from the reasonably priced Cayote Pub to fine dining establishments.
2) Bachelor Gulch:
The Bachelor Gulch area of Beaver Creek is home to the famous Ritz Carlton Hotel & Residences and several other homes and apartments including Snowcloud at the base area and Bear Paw just a little further up the mountain. Fully linked to the other areas, Bachelor Gulch offers fantastic blue runs for intermediates. Snowboarders & skiers can practice their turns all the way down to the Ritz Hotel and often spot swimmers relaxing in the indoor-outdoor pool with steam rising from it.
3) Arrowhead:
Arrowhead Village is at the bottom of the westernmost entrance to the resort and has the Broken Arrow, a skiers restaurant great for a light lunch. It also has a bar with outdoor patio when it's warm enough to sit in the sun & enjoy a drink watching the skiers come zooming down the slopes.
Skiing:
Beaver Creek Resort is a pretty decent size with 149 trails and 25 lifts, giving plenty of skiing. If you do want to try a day at Vail, which is the biggest resort in North America, it's only 20 minutes drive away or you can hop on the free shuttle bus. For advanced & expert skiers, Beaver Creek can challenge you on its Grouse Mountain moguls or if you're more of an intermediate you can try Strawberry Park's gentle groomers. Beaver Creek takes pride in its grooming and you can often see multiple piste bashers grooming the slopes at any time of day.
World Cup racing:
Not to be missed is the famous World Cup Course for ski racing. The Birds of Prey downhill course attracts hundreds of skiers early in the season to compete on the world cup circuit. The Golden Eagle and other double black diamond runs are part of the course and open to the public when there's not racing. Although not for the faint hearted these runs are definitely skiable for visitors who care to try their skills.
Linked to Beaver Creek:
Avon and Edwards are 2 towns just outside the Beaver Creek resort area and offer some reasonably priced accommodation. Avon now has a gondola linking the town to Beaver Creek landing, from where you can access the rest of Beaver Creek ski area.
More info on Beaver Creek Resort
Ask Chalets USA about your USA skiing holiday today!
We live in the USA, know the ski resorts & accommodation and visit them regularly.
We can give you expert advice and save you time & effort finding the right USA ski holiday for you.
Happy Skiing!
Helen & Rob Brown
Chalets USA
[email protected]
UK Tel 01223 655642
US Tel 303 482 1961