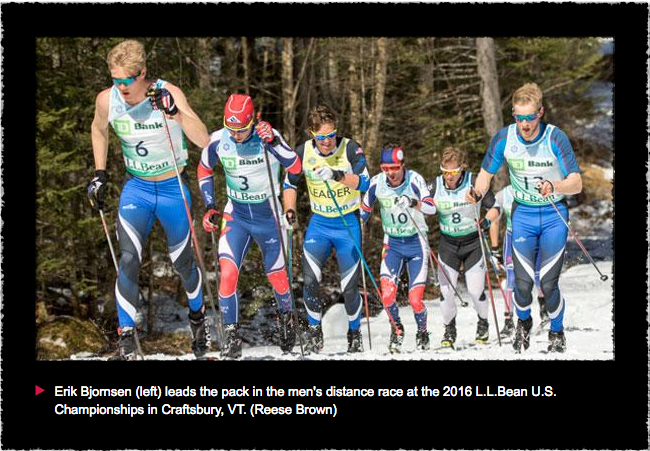 PARK CITY, UT (June 24, 2016) – Top cross country athletes from across America will participate in 16 races at seven different stops as part of the U.S. Ski and Snowboard Association's (USSA) annual USSA SuperTour. The 2016-17 tour kicks off in December in Bozeman, MT.
The SuperTour is a series of International Ski Federation (FIS) sanctioned cross country ski races taking place across America, produced by the USSA, together with its divisions and clubs. The Tour is a vital piece of the USSA's development program, providing top level racing at key cross country centers around the nation. It's a proving ground for club athletes with aspirations of making it to the U.S. Ski Team and competing on the FIS World Cup tour and in the Olympic Winter Games. Caitlin Patterson (Craftsbury, VT; Craftsbury Green Racing Project) and Eric Packer (Anchorage, AK; Alaska Pacific University) took the season long titles in 2015-16.
"The USSA has had great support from its clubs and divisions in putting together this year's calendar," said USSA Nordic Domestic Program Director Robert Lazzaroni. "We've rotated a few sites this year and will continue to move around in the future to get the SuperTour to new places. Moving the event around helps stimulate top-level racing in America."
Period 1 includes stops in Bozeman, MT and Silver Star, BC. The decision was made at USSA Congress to start the series one week later than previous years and to combine with Canada to increase the field.
Period 2 will open in January with the L.L.Bean U.S. Cross Country Championships at Soldier Hollow in Midway, UT. Soldier Hollow is also a site for the 2017 FIS Nordic Junior and U23 World Ski Championships. Athletes will then continue on to Truckee, CA for races on the Auburn trail system.
The third period will feature two stops in the midwest. Athletes will race on a new homologated trail in Ishpeming, MI before participating in America's largest cross country race, the Slumberland American Birkebeiner, on Feb. 25 in Hayward, WI. The series wraps up with the SuperTour Finals Mar. 27- April. 2 in Fairbanks, AK. Finals will also double as the L.L.Bean U.S. Championships for long distance and freestyle sprint.
"The divisions, venues, technical delegates and homologation inspectors have been working hard to develop new venues and evolve current courses to strengthen the SuperTour," stated USSA Cross Country Development Coach Bryan Fish. "We are making strides to include junior and collegiate racing within the SuperTour to enhance head-to-head racing with juniors, college athletes and our top World Cup competitors. Our collaboration with Cross Country Canada will also better prepare athletes for international competition. It's an exciting year for cross country in the United States, and we'll get to showcase this to the world during Junior World Championships."
Athletes will also vie for for points across the tour to earn Continental Cup leader starts and World Cup starts. There will also be spots available for the 2017 FIS Nordic World Ski Championships Feb. 22 – March 5 in Lahti, Finland. Those spots will be awarded after the conclusion of the U.S. Cross Country Championships in January.
For more information on the USSA SuperTour, visit ussa.org/joinnordic.
2016-17 USSA CROSS COUNTRY SUPERTOUR
Period 1
Dec 3-4, 2016
Bozeman, MT
Men's Freestyle Sprint, 15 km CL
Women's Freestyle Sprint, 10 km CL
Dec 10-11, 2016
Silver Star, British Columbia
Men: Sprint CL, 15 km Free
Women: Sprint CL, 10 km Free
Period 2
Jan. 7-12, 2017
L.L.Bean U.S. Cross Country Championships
Soldier Hollow, Midway, UT
Men: 15 km Free, Sprint CL, 30 km CL
Women: 10 km Free, Sprint CL, 20 km CL
Jan. 21-22, 2017
Truckee, CA
Men: Sprint CL, 10 km Free
Women: Sprint CL, 5 km Free
Period 3
Feb. 17-19, 2017
Ishpeming, MI
Men: Sprint Free, 10 km CL
Women: Sprint Free, 5 km CL
Feb. 25, 2017
American Birkebeiner
Hayward, WI
Men's and women's 50 km Free
Period 4
Mar. 27-April 2, 2017
SuperTour Finals
Fairbanks, AK
Men: 24 km Skiathlon, Sprint Free, Relay, 50 km Free
Women: 14 km Skiathlon, Sprint Free, Relay, 30 km Free